Blyth Enterprises Pty Ltd is a Western Australian and family-owned business that specialises in material handling equipment in Perth.
Conveniently located in Osborne Park, near Hutton Street and the Mitchell Freeway, we stock a wide range of high-quality wheels and castor wheels from local and international brands such as Tente and Lag to suit every industry and application. This includes stainless steel, heat resistant, cast iron, zinc plated and nylon wheels and castors.
Need a trolley to transport large or heavy objects safely and easily? We stock several trolleys and hand trolleys in all shapes and sizes.
What about a ladder to help you reach high areas? Blyth Enterprises is your place for all types of ladders from fibreglass ladders to aluminium ladders that are suitable for either domestic or industrial applications.
Need a place to store items? We stock many plastic products including plastic tubs, plastic buckets and plastic crates. This includes food-grade produce crates, butchers crates and milk crates among others.
We also supply a large range of adjustable levelling feet and corner buffers for any application, as well as gravity conveyors, drum handling equipment, pallet trucks and lift tables for the efficient handling of goods.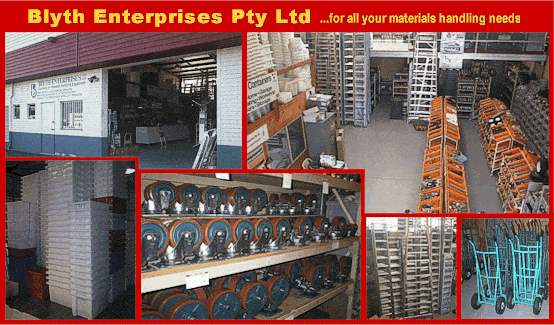 At Blyth Enterprises we consider it our job to guide and inform our customers. Our experienced sales staff can help you pick the most appropriate product for your needs. We focus not just on price, but also on quality, reliability and longevity. So come visit us in-store in Osborne Park or send us an enquiry and our staff will help you meet your goals! We ship our products AUSTRALIA WIDE.